India's Super 7 Pharmaceutical Companies 2017
Piramal Enterprises
Headquarter: Mumbai, Maharashtra
Chairman: Ajay Piramal
Sales Growth: 24 percent
Piramal Enterprises is the flagship company of Piramal Group and leads the business arms in Healthcare and Financial Services. Over 70 percent of the company's revenue generates from the pharmaceutical businesses in North America and Europe. The company is looking forward to expanding its pharma arm in other areas of Europe, U.S., and Japan.
Shortly, the company plans to launch Desflurane, the new generation of inhalation anesthesia.
Piramal Finance, a Piramal Enterprises Division sanctioned INR 400 Crore for its emerging and mid-market businesses.
---
Use Medgenera-Search Engine to know more about the Indian healthcare companies. Search here.
---
Aurobindo Pharma
Headquarter: Hyderabad
Director: P V Ramprasad Reddy
Sales Growth: 23 percent
Aurobindo Pharma manufactures generic pharmaceuticals and active pharmaceutical ingredients. Recently the company got the US FDA approval for generic version of Genzyme's Renvela (Sevelamer). The drug is used for the treatment of chronic kidney disease. It has estimated the market size of $1.9 billion each year.
Now Aurobindo has a total of 331 ANDA approvals from USFDA. The company generated a revenue of INR 121.2 billion in 2015.
---
Aurobino Pharma full profile is now available now. Visit here.
---
Natco Pharma

Headquarter: Hyderabad
Chairman and MD: V C Nannapaneni
Sales Growth: 41 percent
The company develops, manufactures and markets finished dosage formulations (FDF) and active pharmaceutical ingredients (APIs). Recently, the company launched Velpanat, a drug used for the treatment of Hepatitis C and Pomalid which is a generic version of pomalidomide capsules used to treat a specific blood cancer in India.
A feww days back, Natco received US FDA approval for generic version of Celgene's chemotherapy drug, Vidaza (azacitidine) for the treatment of myelodysplastic syndrome (MDS), a type of blood cancer.
---
Natco Pharma full profile is now available now. Visit here.
---
Alembic Pharmaceuticals

Headquarter: Vadodara, Gujarat
Chairman and CEO: Mr. Chirayu Amin
Sales Growth: 19 percent
The company is involved in the manufacture of Pharmaceutical products, substances, and intermediates. The company created revenue of INR 31.45 billion in 2015. In India, Alembic is known as a market leader in macrolides segments of anti-infective drugs.
Alembic received US FDA approval for the abbreviated new drug application (ANDA) for Telmisartan and Amlodipine tablets for hypertension. The tablets are equivalent to the Twynsta tablets of Boehringer Ingelheim Pharmaceuticals. This year the company acquired the non-oncology formulation businesses of Dabur Pharma for INR 159 crore.
---
Make your personal collection of the favorite healthcare companies. Try here.
---
Ajanta Pharma
Headquarter: Mumbai, Maharashtra
Managing Director: Mr. Yogesh Agarwal
Sales Growth: 18 percent
The branded generic formulations and medicines company, Ajanta Pharma created a revenue of INR 1,705 crore in 2015. The company exports wide range of products to over 30 countries in Asia and Africa. Till now the company has launched about 12 products in the market and much more are in the queue.
---
Torrent Pharmaceutical

Headquarter: Ahmedabad, Gujarat
Chairman: Mr. Sudhir Mehta
Sales Growth: 12 percent
The company acquired two leading women healthcare brands, Regestrone and Pregachieve from the pharma giant, Novartis.
Torrent operates in more than 50 countries and manufactures the product in Cardiovascular (CV), central nervous system (CNS), gastrointestinal, diabetology, anti-infective and pain management segments.
---
Cadila Healthcare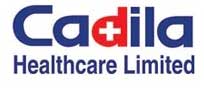 Headquarter: Ahmedabad, Gujarat
Chairman: Mr. Pankaj R. Patel
Sales Growth: 10 percent
The generic drug manufacturing company generated revenue of INR 54.7 billion in 2015. In July, the company received US FDA approval for Mesalamine delayed-release tablets that are used for the treatment of ulcerative colitis and Memantine Hydrochloride tablets used to treat dementia.
Cadila's immunomodulating drug, Fingolimod Capsules received tentative marketing approval from US FDA. It is intended to treat multiple sclerosis. According to IMS Health data, the Fingolimod Capsules sales is estimated to be $2.1 billion.